AIEC 2022 - Gold Coast and online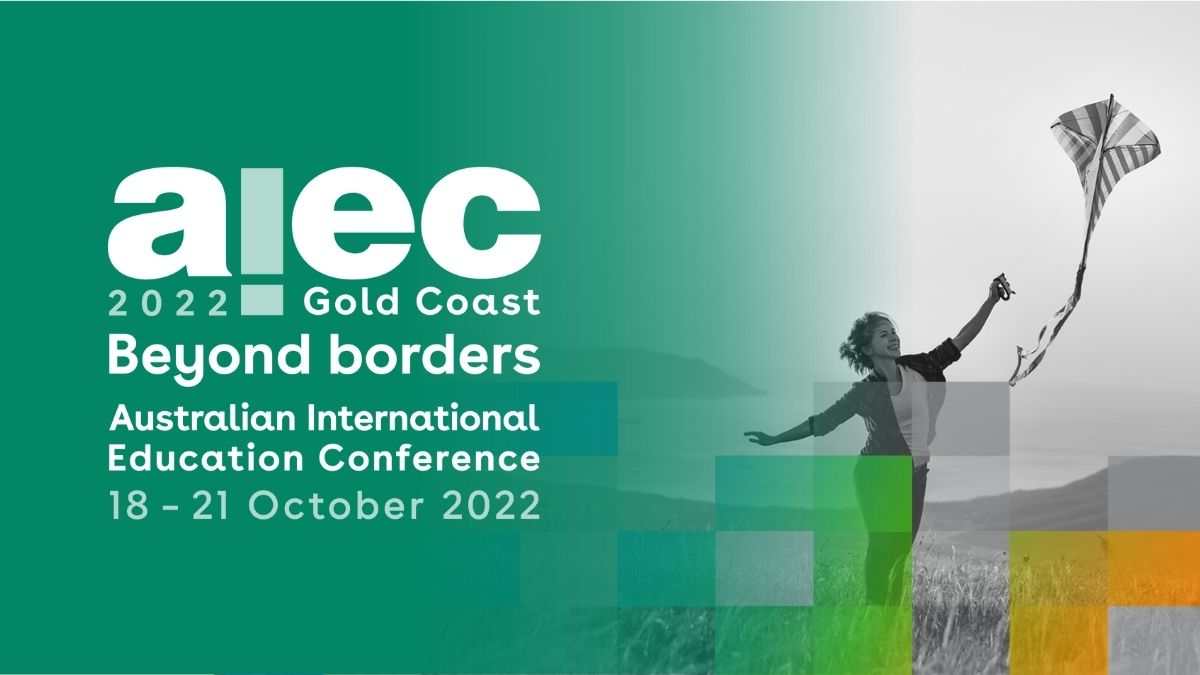 Dates: 18-21 October 2022
Location: Gold Coast and online
Theme: Beyond borders
Online program
Program at a glance
Photos 
Videos
Virtual attendee hub
Social media
Reunited beyond borders
After three years apart, the international education sector reunited at AIEC 2022. Over 1,750 attended at the Gold Coast Convention and Exhibition Centre and online over the course of four days to discuss the issues that matter most to our sector.
Despite the formidable challenges of the last couple of years – our sector has emerged stronger, more united and more determined to break down barriers.
We heard and learned from 210 speakers in over 100 sessions, who inspired and challenged us to think beyond borders, we rediscovered the power of human connection, and we embraced a sense of belonging to our #intled community.
This year's theme 'beyond borders' echoed throughout the halls of the conference venue and screens all over the world and sent a strong message to the world that we are back, and that we are bonded by a common sense of purpose.
AIEC in words 

Delegates were invited to contribute to the "beyond borders' wall by expressing what the theme meant to the international education sector. Over four days, our talented graphic illustrator Jessamy Gee from Think in Colour took these ideas and brought them to life!
View pictures of the mural in progress
AIEC in numbers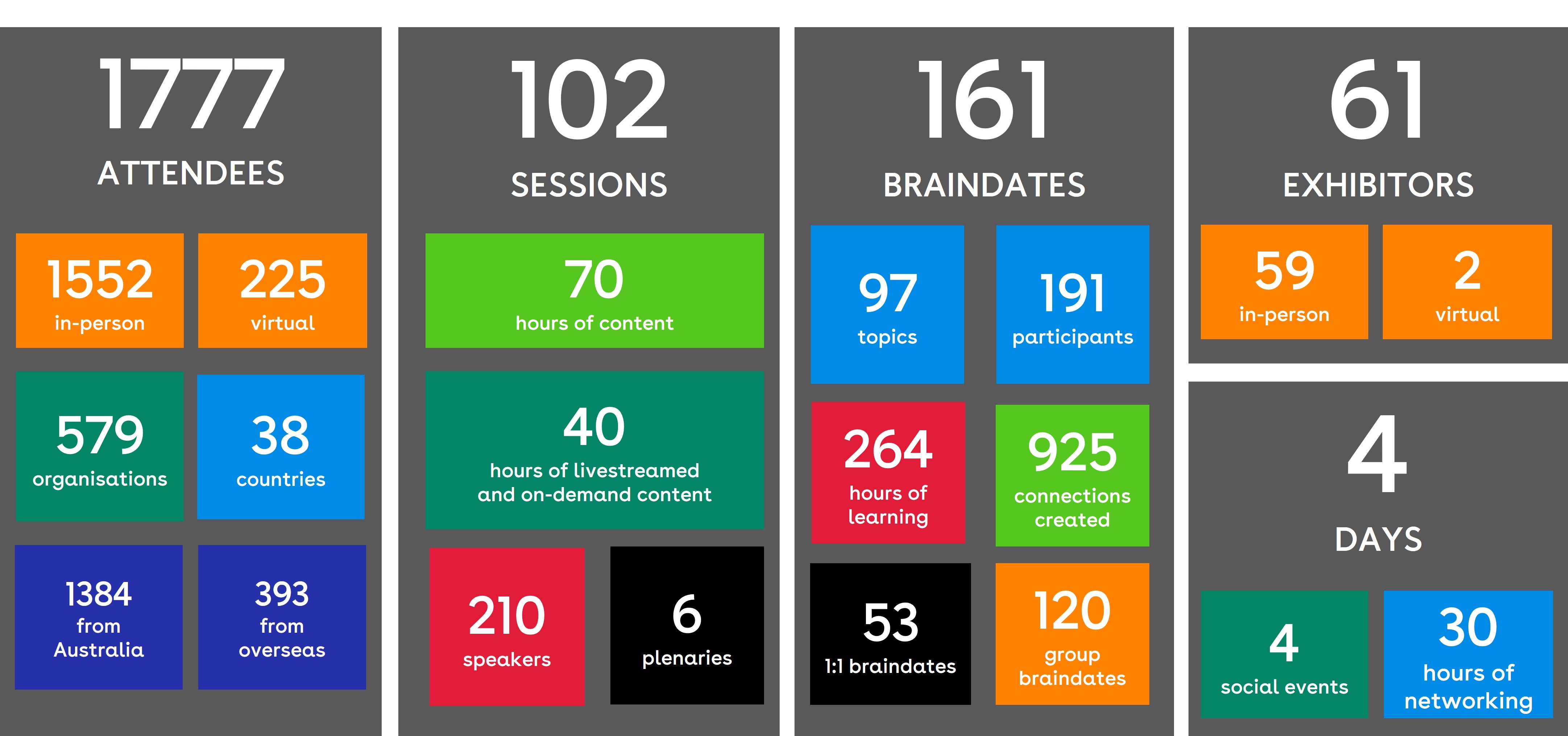 Keynotes
Stan Grant

Journalist, author and filmmaker

Acclaimed journalist, author and commentator Stan Grant asked us to challenge the borders of our imagination - how we see the world, how we impose our perceptions on our world – and to understand that our imagined borders result in real world borders with implications such as the erasure of history, language, people, identity and more.
Stan implored us to consider and rethink – to see through the mirage – and to ask "what does it mean to belong" in a world beyond borders.
 

Bosco Anthony

Catalyst thinker, digital strategist, disruptive storyteller and a rebellious marketer

Bosco Anthony – a global renowned digital strategist and trends and futurist analyst – outlined how current events have impacted and will interrupt the international education sector.
An insightful and data driven presentation, Bosco demonstrated the innovation recalibrating approaches to marketing and how the #intled sector can evolve as the world changes.  
 

His Excellency Mr Vasyl Myroshnychenko

Ambassador of Ukraine to Australia and New Zealand

 His Excellency Mr Vasyl Myroshnychenko, Ukrainian Ambassador to Australia and New Zealand, shared his own experiences as an international student, and the influence this has had on his life.
The Ambassador outlined the impact of conflict on education in Ukraine and the post war recovery strategies that will be needed to rebuild the education sector.
 

Nikki Hutley

Economist and advocate for climate action and social impact

 

Nikki Hutley outlined how Australia navigated its way through the pandemic in 2020 and 2021. Post pandemic, the world faces a new set of crises, with excessive global fiscal stimulus and on-going supply chain disruptions, coupled with Russia's invasion of Ukraine.
Nikki covered at risks and opportunities for Australia's short and medium-term future and the implications for international education.

Lisa MacCallum

International brand transformation expert

Lisa MacCallum's keynote introduced how consumers, employees and outsiders can make or break an organisation faster than ever. No longer constrained by physical borders, and with technology at their fingertips, global citizens seek inspiration and authenticity and have the tools, networks, voice and motivation to demand it.
Lisa outlined how today's organisations can embrace the profound shift in marketplace power, and in doing so, create an organisation with a resilience, agility, brand distinction and competitive advantage that your students and customers will stand behind. 
 

Annabel Crabb

Annabel Crabb returned to the AIEC stage and emceed throughout the week. Her infectious humour and wry observations kept the crowd entertained and informed.
 
Session highlights
Where to next and how will the national strategy get us there?
What will international education look like in 2030? This session outlined to over 300 delegates how the Australian Strategy for International Education sets the priorities and framework for the next decade. The four priority areas - diversification; alignment with Australia's workforce and skills needs; students at the centre; and growth and global competitiveness - were developed with over 1,600 stakeholders and define key success metrics.
Further information about the Strategy
Emerging Futures – unpacking IDP's latest research
During the height of the pandemic, IDP's quarterly 'Crossroads' reports influenced policy and strategy at government and institutional level around the world. As the impact of the pandemic on the sector lessens and international borders in Australia reopen to international students, IDP developed a new research series, 'Emerging Futures', aimed understanding immigration policy, different study modes and delivery methods. Presented by Andrew Wharton, IDP Connect, the findings of this research provided insight into the motivations and attitudes of international students to key destination countries, and equipped attendees with the data insights to drive positive, student first policies and strategies.
Times Higher Education World University Rankings
Times Higher Education has been publishing the World University Rankings since 2004, comparing research-intensive universities globally across their core missions. The information collected in 2022 by THE's data team fuels not only the World University Rankings 2023, but also several regional and thematic rankings including Asia, Latin America and Young University tables. This presentation covered the 2023 World University Rankings, the methodology (WUR 3.0) that underpins the results, and data for Australia and New Zealand to reveal trends and challenges.
Further information on the World University Rankings
Future of the international student experience: putting students at the centre 
Recent experiences exposed multiple cracks in the international student experience in Australia, yet programs strongly supported students in need. Many international students stayed in Australia as front-liners and played their part to support local communities as well as Australia as a whole during the pandemic. There have been many positive stories of community, institutions and organisations coming together to support students, with a view to the future of practical optimism about how the student experience can be enhanced. The new Australian Strategy for International Education 2021–30 places students at the centre. What does this mean? This panel featured international student and graduate voices, their stories and their message to Australia and the sector to inform ways to best place students at the centre through government policy, institution governance, program design and support services.
Further information about the Strategy
Social events
Meet and Greet, Welcome Reception
After three years apart, there was much catching up to do. Attendees were invited to start their networking early with a casual meet-up before the Welcome Reception. With live music, happy colleagues reunited and stories to tell, the first social event of AIEC 2022 was a great success.
Happy Hour
AIEC's Happy Hour is a popular and well-earned time to relax in a casual environment, catching up with friends and colleagues. After wrapping up a long yet rewarding first conference day, attendees headed to Oracle Boulevard to four venues decorated with red IELTS balloons to continue their networking.
Sponsored by IELTS
Conference Dinner
2022's Conference Dinner was held at Miami Marketta, Gold Coast's fabulous night market and best laneway foodie experience. Attendees enjoyed a global street market of tasty food, drinks, live music and dancing amidst the art-filled, IDP-themed decorations
Sponsored by IDP
Media coverage
Social media
View the #aiec2022 social media feed
Committees
Thank you to our 2022 Committees Members:
Steering Committee
James Bennett - Head of Business Delivery & Evolution, IDP Connect 
Honourable Phil Honeywood - Chief Executive Officer, IEAA
Jana Perera - Executive Director, Commercial Business, The Gordon
Tanya Perera - Client Director, IDP Connect
Professor Simon Ridings - Deputy Vice-Chancellor (International), Edith Cowan University
Brian Smith - Stakeholder Engagement Manager, IDP Education
Kelly Smith - Pro-Vice-Chancellor International, Murdoch University
Josephine Williams - Events and Partnerships Manager, IDP Education
Program Committee
Stephen Biggs - Executive Director, DE International (Education Queensland International)
Melanie Duncan - Deputy Convenor, IEAA Student Life Network
Andrew Foley - College Director & Principal La Trobe Operations, La Trobe College Australia
Louise Goold - Director, Murray-Goold International. Director, Development and External Relations, Faculty of Education, Monash University
Peter Harris - Chief Officer Partnerships and Growth, UTS College
George Hernandez
Damir Mitric - Learning Design Manager | Digital Learning Melbourne Business School
Jana Perera - Executive Director, Commercial Business, The Gordon
Brian Smith - Stakeholder Engagement Manager, IDP Education
Paula Soon - Assistant Director, Pathways and Operations, Global Marketing, Digital and Student Recruitment, RMIT University
Simon Watson - Senior Manager, International Mobility Programs, University of Technology Sydney
Alison White
Dino Willox - Director, Student Employability, The University of Queensland 
To see current committee members, please visit https://aiec.idp.com/committee
Key dates

9 February - Call for proposals opens
10 March - Call for proposals closes
1 June - Registration open
July - Program released
31 July - Super early bird registration closes
4 September - Early bird registration closes
10–13 October – AIEC 2023
{global_content name='counter'}{global_content name='key_dates'}{global_content name='register_now'}{global_content name='subscribe_to_enews'}{global_content name='slider_news'}{global_content name='slider_upcoming_events'}