Delivering Australian prosperity:
The role of international education in creating a stronger nation
Date: Tuesday 13 October 2020
Time: 5pm to 6.15 pm AEDT
Format: Webinar
Location: Online
Click on the illustrations below to open the illustrations in a new window: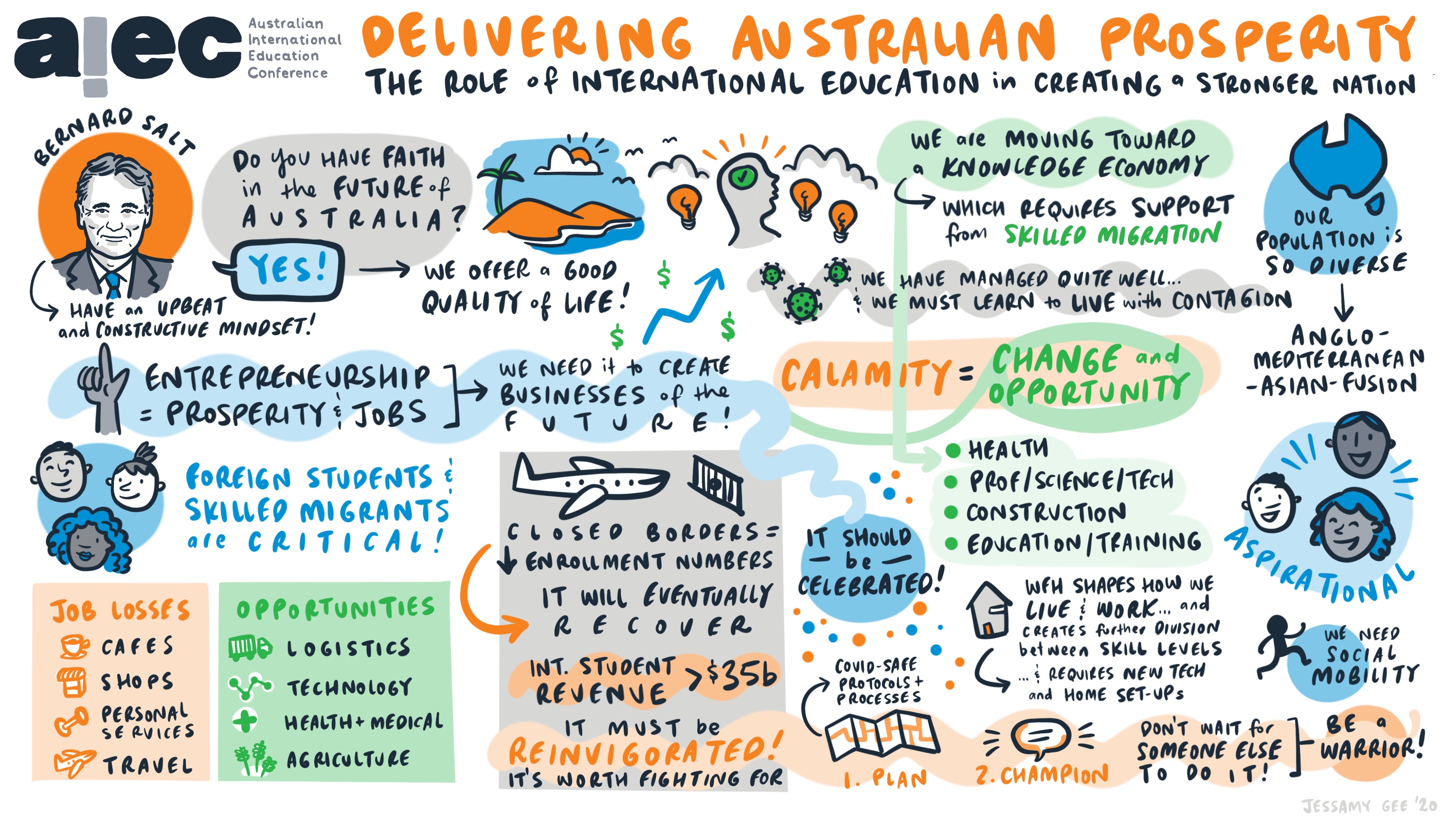 Overview
The coming of the coronavirus has reshaped business, consumer behaviour and our national priorities. Nowhere is this better evidenced than in the education sector. Australia's education providers are at a crossroads. Closed borders have limited Australia's ability to attract bright minds to our country, shining a spotlight on the academic, social and economic consequences of a nation without international education. 
Our sector is not alone in its impact. Our trade, tourism, aviation routes and geopolitical alliances are all being reimagined. How the international education sector responds and adapts will be critical in how successfully our nation can rebuild.

Australia may well emerge from the pandemic with new priorities, but what will not change is the need for a skilled population that is adaptable, culturally diverse and one that is world-class in capabilities and international relationships.

Indeed, welcome to the brave new world of technical and further education that will deliver sustainable and long-lasting prosperity for Australia.
Bernard Salt AM
Bernard Salt is widely regarded as one of Australia's leading social commentators by business, the media and the broader community.
Bernard heads The Demographics Group which provides advice on demographic, consumer and social trends for business. Prior to that Bernard founded KPMG Demographics. 
He writes two weekly columns for The Australian newspaper and is an adjunct professor at Curtin University Business School.
He is well known to the wider community for his penchant for identifying and tagging new tribes and social behaviours such as the 'Seachange Shift', the 'Man Drought', 'PUMCINS' (pronounced pumkins) and the 'Goats Cheese Curtain'. He is perhaps best known for popularising the phrase "smashed avocado" globally.  
Bernard was awarded the Member of the Order of Australia (AM) in the 2017 Australia Day honours.
Terms and conditions
This session is an AIEC Connect event. By registering for this event, you acknowledge that you have read and understood the AIEC Terms and Conditions, Privacy Policy and Code of Conduct.  
Key dates

9 February - Call for proposals opens
10 March - Call for proposals closes
1 June - Registration open
July - Program released
31 July - Super early bird registration closes
4 September - Early bird registration closes
10–13 October – AIEC 2023
{global_content name='counter'}{global_content name='subscribe_to_enews'}{global_content name='key_dates'}{global_content name='events'}{global_content name='slider_news'}{global_content name='slider_ads'}{global_content name='mobile_contact'}