Getting there and around
To find out how to get to the conference venue by walking or driving, please see Venue: GCCEC.
Travelling to the Gold Coast
The Gold Coast is easy to access via air, land and sea.

The Gold Coast Airport at Coolangatta is serviced by domestic and international flights. Most services are one-class, but many also offer business class travel. There are regular daily domestic flights from Sydney, Melbourne and Adelaide and there are also connecting flights to all other Australian cities. The trip from Sydney takes around 1 hour 25 minutes, around 2 hours 15 minutes from Melbourne and around 2 hours and 10 minutes from Adelaide.

International flights arrive from Auckland, Hamilton, Dunedin, Palmerston North and Christchurch in New Zealand. There are also flights arriving on the Gold Coast via Cairns from Japan (Osaka, Nagoya and Fukuoka), Taipei, Hong Kong and Singapore. Brisbane's International Airport also provides links with the USA and Europe.
Gold Coast Airport
Gold Coast Airport (IATA: OOL) is conveniently located just 18 kilometres from the CBD and offers a range of services and facilities for travellers including car rental, foreign exchange, wireless internet, shopping, restaurants and bathroom amenities. For further information on Gold Coast Airport visit their website.
There are many convenient options to get you where you need to go - hop on a bus, catch a taxi or rideshare, or drive yourself.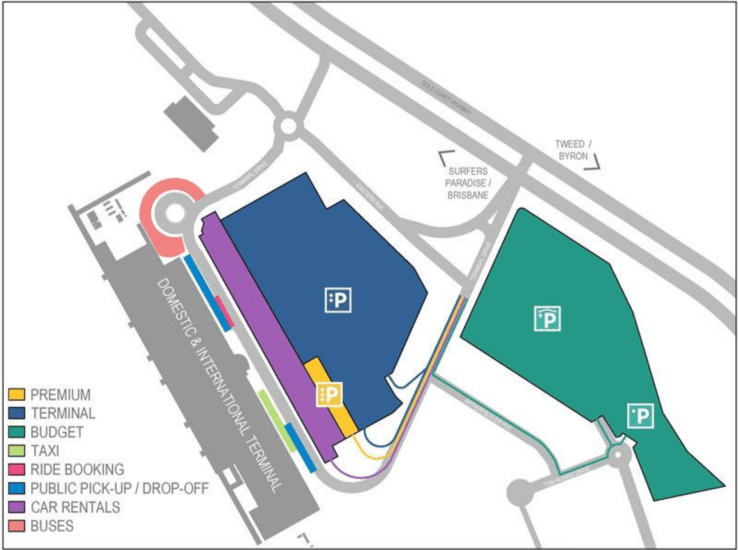 Shuttle
The SkyBus Gold Coast Airport Shuttle is a dedicated service connecting the Gold Coast Airport to Gold Coast's most popular tourist locations. The Gold Coast Airport Shuttle services all flights, 7 days a week from the airport to hotels.
Taxis
The Gold Coast offers a professional taxi fleet service. Taxis can be flagged down from the kerbside and taxi ranks are located in several locations in the city. The average cab fare from the airport to the GCCEC is $80.00.

A taxi rank is conveniently located at the southern end of the terminal, outside the domestic arrivals area. Please refer to http://www.gccabs.com.au for bookings, fares and further information.
Rideshare
Ola, Didi and Uber ridesharing services are available at Gold Coast Airport.

The rideshare pick-up bays are located at the northern end of the Terminal outside the departure areas. Simply follow the directions given in the app and terminal signage to the nearest rideshare pick-up bay. Please wait until you have collected your luggage and are ready to leave the airport before requesting your ride through the Ola, Didi or Uber app.
Hire vehicles
There are a number of hire car companies that operate services directly from the airport. An internet search for 'hire cars Gold Coast' will return hire car companies based in and around the city.
A list of car rental companies include:
Avis 13 63 33
Budget 13 27 27
Europcar 1300 13 13 90
Hertz 13 30 39
Redspot 1300 66 88 10
Thrifty 1300 36 72 27
Travelling around the Gold Coast
Gold Coast boasts many convenient and safe public transport options that service the entire metropolitan area. Translink, who manages this system, operates an extensive system, covering trains, buses and rail.
Bus
TransLink's integrated network on the Gold Coast includes the G: link trams, Surfside Buslines and Queensland Rail. Ticketing is handled with Go cards and these can be purchased from any Hub Convenience store. The 'Gold Coast go explore' pass is available from the Airport and is easy to use. The pass is only $10 a day for unlimited bus and tram travel.
Routes 777 and 760 depart from the airport with various stops:
Route 777 is a limited-stop service, taking you to Broadbeach South tram station, where you can transfer on the platform to the G:link for Surfers Paradise, Southport or other bus routes. Route 777 runs every 15 minutes from 7:00 am to 7:00 pm, seven days a week.
Route 760 connects the airport to Varsity Lakes Train Station, departing half-hourly.
Hub Convenience now sells Go cards, however, they are not able to offer refunds. To find a nearby retailer that can refund your Go card, please visit the TransLink website.
Trains
There are frequent trains from Brisbane Central to Varsity Lakes Train Station with connections to Surfside Bus 760 then stops at Gold Coast Airport.
Visit translink.com.au for more information or to plan your journey.
Trams
The G: link, also known as the Gold Coast Light Rail, is the Translink tram starting at Helensvale Station, with 18 stops down to Broadbeach South Station.
On weekdays, the tram line is available from an early, 5am, running every 15 minutes to 7am, then between 7am to 7pm, every 7.5 minutes. On weekends the tram line adjusts in the 7am to 7pm timeslot of running every 10 minutes. Throughout the week, from 7pm to midnight, the tram runs every 15mintues.
To arrive at the Gold Coast Convention and Exhibition Centre, starting from the top at Helensvale station will be a cost of $3.37 (Adult) with a Go Card, and take you 35 minutes to Broadbeach North Station, where you'll get off the G: Link right in front your destination, with a short 5 minute walk to front doors of the GCCEC.
To stay up-to-date with the timetable, you can download the My G APP, locate all stations, plan you journey, track the tram in real time and find ticket information.
AIEC 2022 Key dates

1 February - Call for proposals opens
1 March - Call for proposals closes
1 June - Early bird registration open
1 August - Registration opens
18-21 October – AIEC 2022
{global_content name='counter'}{global_content name='subscribe_to_enews'}{global_content name='key_dates'}{global_content name='sponsors_destination'}{global_content name='slider_news'}