In the driving seat: taking back control of international student recruitment
Date: Wednesday 12 August 2020
Time: 5pm to 6.15pm AEST (UTC+10:00)
Location: Online (Zoom)
Format: Webinar


Click on the illustrations below to open the illustrations in a new window: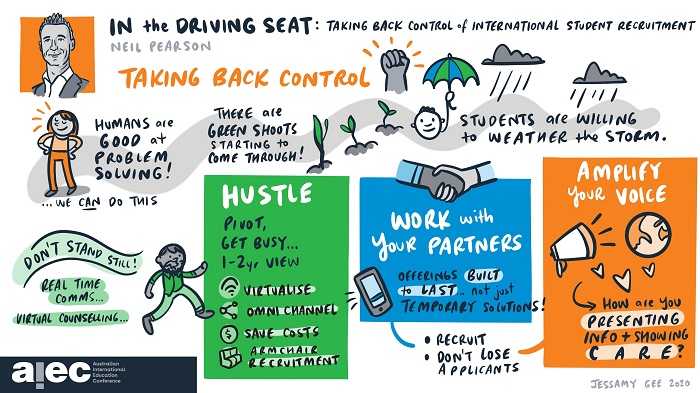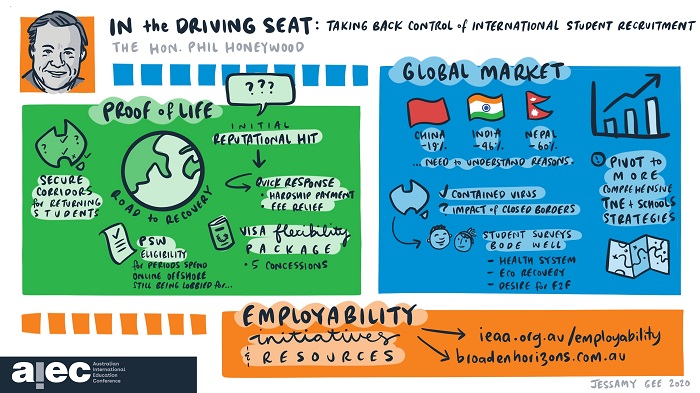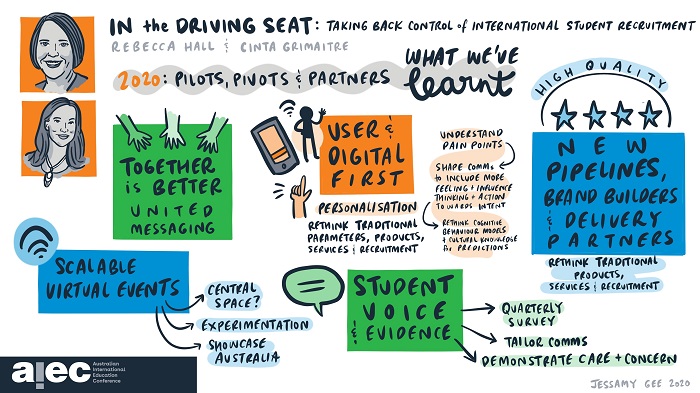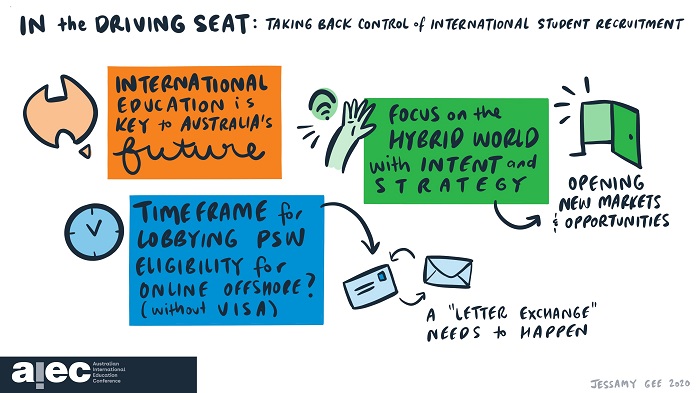 Overview
The last few months have presented numerous unforeseen challenges for our sector and many of us may feel that our hands are tied and we can't progress recruitment due to COVID-19 restrictions.  However, not everything we are collectively experiencing is out of our hands. This webinar took a proactive approach to examine what is within our control, such as virtual recruitment, virtual counselling and digital solutions.
Key learnings:
the latest practical information on Australian policy development, pilot plans to support international students and other 'road to recovery' initiatives from IEAA;


How virtual solutions are being employed by IDP to overcome marketing and recruitment obstacles including virtual events, virtual counselling and smartphone applications;


Austrade's recent work on virtual events, along with new micro-credentials on how to market Australia during COVID and beyond.
Speakers
Hon. Phil Honeywood

Chief Executive Officer, International Education Association of Australia (IEAA)

Phil has been IEAA's Chief Executive Officer since November 2011. Previously, he was a Member of the Victorian State Parliament (1988–2006), Minister for Tertiary Education, Training and Multicultural Affairs (1996–1999) and Deputy Leader of the Opposition (2002–2006). Since retiring from politics, Phil worked at Stott's Business College and Cambridge International College. He has been on the AIEC Steering Committee since 2012. 

Rebecca Hall

Head of International Education Centre of Excellence, Australian Trade and Investment Commission (Austrade)

Rebecca leads Austrade's engagement in promoting Australia's international education sector. She is a member of the Trade and Investment senior leadership team, engaging across the Austrade global network and sector. She oversees Austrade's AIE2025 strategy and services to support international education sector sustainability.

Cinta Grimaitre

Senior Advisor, Study Australia Digital Platforms, Australian Trade and Investment Commission (Austrade)

Cinta has been working in the International Education sector for over 15 years, with experience working across the ELICOS and Higher Ed sectors, state and federal governments. More recently she has specialised in digital marketing and platform transformation. She loves delivering complex project-based initiatives, placing a strong emphasis on creating positive outcomes, improving the student experience and organisational value.

Neil Pearson

Chief Digital Marketing Officer, IDP

Neil has been Chief Digital Marketing Officer at IDP for 3 years, where he has led IDP's digital transformation and development into a fully omnichannel student placement platform supporting a connected community of students and institutions. Neil was previously CTO of the Hotcourses Group (now IDP Connect) for 17 years before it was acquired by IDP in 2017.

 

James Bennett (Chair)

Head of Business Delivery & Evolution, IDP Connect

James is responsible for the team supporting the Client Managers' engagement with IDP Connect clients. He also works across the IDP Connect global teams to help shape and develop new products and services for clients. He has been on the AIEC Steering Committee since 2012. 
Privacy and code of conduct
When you register for this AIEC webinar, you will be asked to submit information, which will include your personal information, through an online registration form to IDP Education, who will use it to communicate with you regarding this event, and inform you of other future AIEC events and online activities.  The personal information that you submit will be collected, used and disclosed by IDP Education in accordance with the Privacy Policy .
AIEC is dedicated to providing a safe, friendly, enjoyable and harassment-free event experience for everyone, regardless of gender, gender identity and expression, sexual orientation, disability, physical appearance, body size, nationality, race, age or religion. We expect participants to abide by the code of conduct at all conference activities, including online and virtual events, related social events, online communications such as emails, social media and app communications and participation.
By registering for this event, you acknowledge that you have read and understood the Privacy Policy and the Code of Conduct.
Key dates

9 February - Call for proposals opens
10 March - Call for proposals closes
1 June - Registration open
31 July - Early bird registration closes
10-13 October – AIEC 2023
{global_content name='counter'}{global_content name='subscribe_to_enews'}{global_content name='key_dates'}{global_content name='events'}{global_content name='slider_news'}{global_content name='mobile_contact'}