Virtual café
Facing the challenges, fronting the future
Date: Tuesday, 29 September 2020
Format: Virtual café session
Post-event report
Click on the image to open the the post-event report in a new window.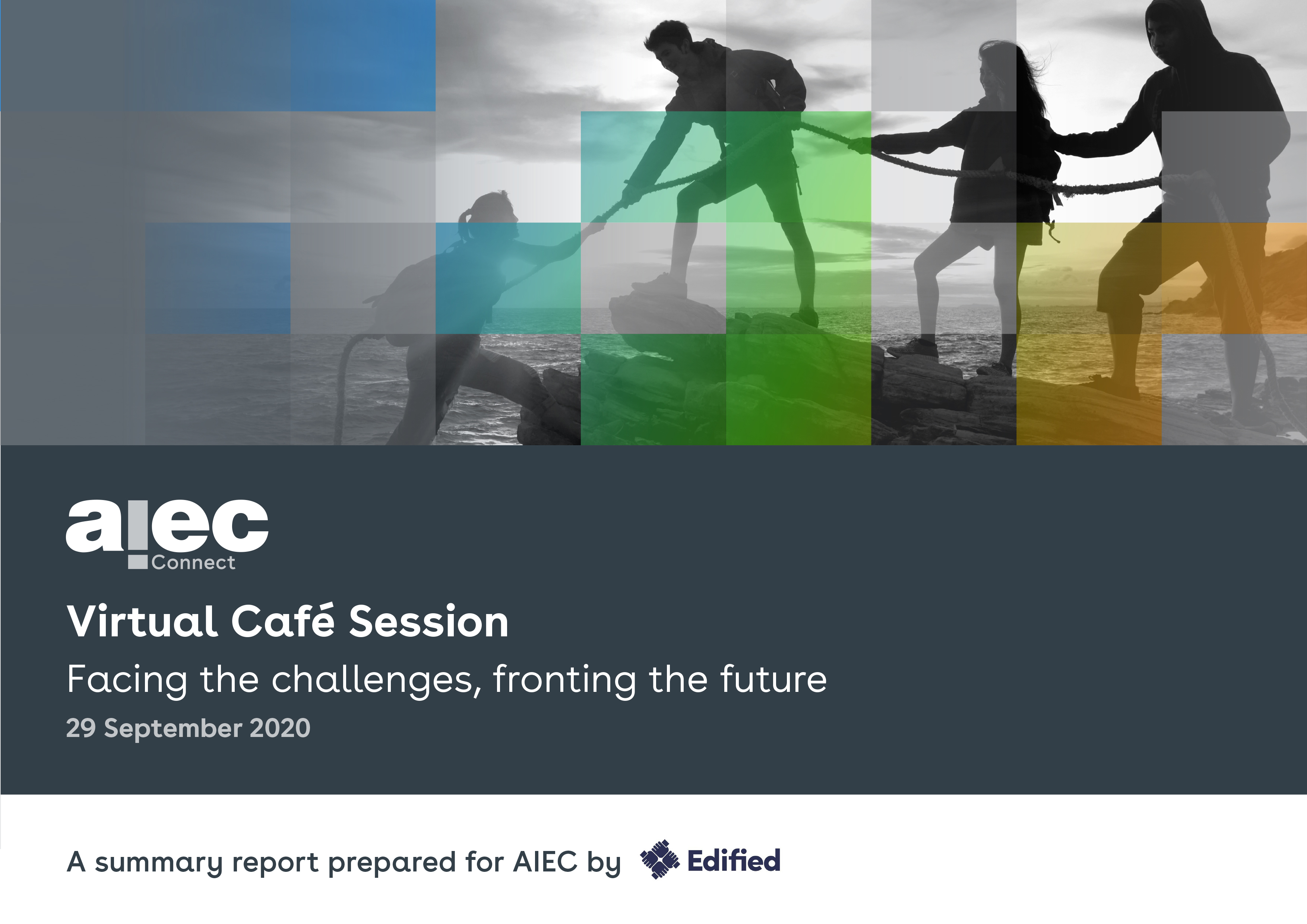 Videos
Watch the recording of the presentation and the debrief at the end of the session:
The video below, played during the session, captures the mood and feelings of our sector in the early days of the coronavirus pandemic:
Graphic illustrations
Click on the illustrations below to open the illustrations in a new window.
Overview
The year 2020 presented the international education industry with multiple challenges arising from the greatest crises our industry has ever faced. Industry practitioners from all sectors have weathered external forces beyond their control. How institutions, organisations and individuals responded this year may buffer the impact, while indecision and angst may hasten the severity and prolong the pain. This session drew lessons and experience from surveys conducted at multiple points across 2020 by Edified.  
This was an interactive virtual cafe session, where attendees had an opportunity to break into smaller discussion groups organised into themes. At the end of the session, the findings from the breakout groups were shared with the wider group.
Key takeaways:
Reflect on how this crisis has affected us all – personally, professionally and collectively;
Consider how our individual and collective approaches have converged and where they have diverged
Learn from and share with colleagues strategies an ideas to thrive in the year ahead
Facilitators
Dr. Aleksandr Voninski

Partner, Edified Consulting

Alek has provided leadership, engaging strategy, and expert consulting to the international education sector over the last 20 years. For over a decade, he held senior positions across International, External Relations and Strategy portfolios at UNSW Sydney as well as senior marketing positions within Study Group, in addition to leadership positions in the AUIDF and Go8 International Directors forums. Alek has a depth of education sector experience offshore, with over a decade of working in China and Japan in addition to university admissions experience in the US. He holds of Doctor of Education from the University of Southern California. 

Hayley Shields

Partner, Edified Consulting

Hayley is a marketing, recruitment, and student experience expert and recognised leader in international education. She has held leadership roles over two decades across Australia and New Zealand. Most recently she was the first national Director International Student Experience for Education New Zealand, designing strategy, research, employability and digital innovation for international student experience nationally. She has led international recruitment, communications, sales and marketing in a number of higher education institutions.
Terms and conditions
This session is an AIEC Connect event. By registering for this event, you acknowledge that you have read and understood the AIEC Terms and Conditions, Privacy Policy and Code of Conduct. 

Key dates

9 February - Call for proposals opens
10 March - Call for proposals closes
1 June - Registration open
July - Program released
31 July - Super early bird registration closes
4 September - Early bird registration closes
10–13 October – AIEC 2023
{global_content name='counter'}{global_content name='subscribe_to_enews'}{global_content name='key_dates'}{global_content name='events'}{global_content name='slider_news'}{global_content name='slider_ads'}{global_content name='mobile_contact'}