Welcome to AIEC 2014
This October, we invite you to Brisbane for the 28th Australian International Education Conference (AIEC), to be held on 7-10 October 2014.
With a program featuring world leading experts, unique social events and an exhibition, all hosted in and around the Brisbane Convention & Exhibition Centre, this year's AIEC will once again be the leading event on the international education calendar in Australia.
Registration Open!

Registration for the conference is through our online registration form. You can also register for the workshops, roundtable and book accommodation.

 

Preliminary Program Announced!

The preliminary program is now available to view online. You can also preview or download the 'Program at a Glance'.

'Inventing the Future'

We cannot predict the future but we can invent it.
This year's theme 'Inventing the Future', will challenge participants to imagine international education in new ways. The program will showcase innovation and focus on the practical impact it has on us as international education professionals and practitioners as well as on partnerships and collaboration.

Featured Speakers

Among our plenary speakers this year, we are delighted to present journalist Virginia Trioli - TV anchor, radio presenter and commentator - who will facilitate a panel of current and former students from different education sectors and at various stages of study and life ...
Conference starts in days
Key Dates
Call for Proposals Opens
3 February 2014
Call for Proposals CLOSED
28 March 2014
Registration Opens
19 May 2014
July Early Bird CLOSED
11 July 2014
August Early Bird CLOSED
8 August 2014
Conference
7-10 October 2014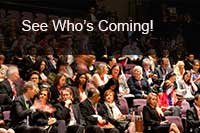 Sponsors & Partners