What you'll find at AIEC 2019
AIEC 2019 will focus on how we can foster and demonstrate the leadership skills and traits students and international educators require. Join in this opportunity to unite to discuss who we see as our leaders and what they can show us about how best to lead the way.
The AIEC program is designed to cater to all sectors of international education and cover a broad range of topics. A significant portion of the program focuses on business development, admissions, marketing and recruitment and students experience. However, there is something for everyone.
Here's just a hint of what you can expect from this year's program.
Plenaries
Fred Swaniker
Opening keynote, Tuesday 16 October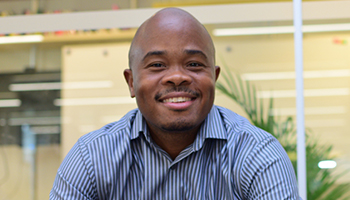 Fred is deeply passionate about Africa and believes that the missing ingredient on the continent is good leadership. In line with this, he has founded two organisations that aim to catalyse a new generation of ethical, entrepreneurial African leaders: African Leadership Academy and the African Leadership Network. Hear what he has to say on leadership, and how you can leverage his learnings in your organisation.

The Honourable Julie Bishop
Closing keynote, Friday 18 October
The Honourable Julie Bishop is one of Australia's most recognised and respected politicians at home and abroad. For 20 years Julie served as the federal member for the West Australian seat of Curtin. She was Australia's Foreign Minister for five years, representing our nation's interests on the world stage. We'll hear her speak on international education for future leadership as our closing plenary.
IEAA Excellence Awards
A firm fixture on the AIEC Opening Plenary session, IEAA Excellence Awards recognise the outstanding contributions by individuals and teams to international education in Australia. To find out more, please visit www.ieaa.org.au/awards
Program highlights by key interest area
This session turns a spotlight on how the international education sector can take action on the climate crisis. The next few years are crucial to limit global temperature rise and avert catastrophic climate breakdown and international education is both part of the problem and the solution.
The audience will learn about the carbon footprint associated with global mobility and the need to factor climate action into future operating models.
Attendees will gain insights into how institutions around the globe are taking steps to reduce their operating emissions and the opportunities that climate challenge presents as a platform to engage students and build employability skills.
The panel will share data on student attitudes to sustainability and how the new Times Higher Education Impact Ranking has the potential to shape student decision-making around institutions' green credentials.
Admissions and compliance
International education agents and the national code (1201) — a primer on the Australian Government's new national code for international education agents. Aiming to detail requirements and improve transparency, this panel includes speakers from the Department of Education and Training.
Business development and strategy
Insights on dealing with current market issues in China, India and ASEAN from the sector and Austrade (1202) — hear from trade commissioners on shifting market dynamics and ready commercial opportunities where Australian providers are best placed to leverage.
Future directions in Australian international education: a government perspective (1199) — an update from Rebecca Hall (Austrade) and the Karen Sandercock (Department of Education and Training) on the Australian government's current directions in international education and training, including strategy programs and projects supporting a sustainable international education and training sector.
Data for change – using data to recruit, promote and persuade (1112) — explores the emerging use of real-time data for a range of purposes in higher education planning and lobbying. Learn how Universities UK International (UUKi) have used data to bring a new dimension to lobbying efforts with national government to highlight trends in international demand, and how University College Dublin considers the role of data in shaping institutional recruitment strategy and planning.
In focus: Nepal (1212) — The third largest market for Australia's international education sector, Nepal comes with its own challenges. How can you get the best out of this market? This session will give you recruitment strategies and share the best practices from the industry. Gain confidence in your Nepal outreach efforts and build sustainable recruitment channel for your institution.  
In focus: Latin America (1198) — the fastest growing region for Australian international student enrolments, Latin America's importance will continue to grow as Australia seeks to diversity its international education sector. The panel will discuss An Educated Choice, a sector-driven report produced by the Latin America Working Group formed in 2018 by the expert members of the Council for International Education. Latin America
Regulating for quality in international education: a systems approach (1259) — ensuring quality in international education is particularly challenging because the sector is so complex and sits at the intersection of many social, political and regulatory systems. What does quality mean in an international education context? Discover the systems approach adopted in New Zealand to support the focus on quality set out in NZ's International Education Strategy.
Out with regional, in with national (1094) — discover how Australia's non-metropolitan educational centres are refuting negative connotations associated with the term 'regional'. See the innovation, enterprise and creativity emanating from countless campuses and research centres – proving the quality of provision is equally high wherever the location. Rob Lawrence will provide an impressive overview as to the strength of the Australian regional proposition and how this proposition can be used to augment and leverage future international growth.
English language
Strategising English Language training opportunities for the offshore and onshore Indian student market (1074) — English Language Intensive Courses for Overseas Students (ELICOS) serve as pathways into the higher education (HE), vocational education and training (VET), and professional sectors in Australia. While rates of international student enrolments have been favourable over previous years, this trend has not been mirrored by the number of ELICOS students arriving from India. This presentation will address offshore and onshore opportunities for Australian providers relative to the Indian market.
Employability
Scaling work integrated learning (WIL) for international students - success factors, challenges & best practices (1080) — global employability skills and authentic workplace experiences are increasingly important to international student destination choice and student experience. Learn how Australian state governments have invested in building project networks enabling thousands of international students from more than 25 universities and international education and training (IET) providers to undertake real projects with government, business & community organisations, leading to positive outcomes, case studies, internships and jobs for international students.
Leading through entrepreneurship and collaboration: connecting students, industry and education institutions (1089) — join a 'how-to' panel on being brave and entrepreneurial that will take you on a journey from an international student's perspective, to an industry partner looking for opportunities to collaborate and a university pursuing higher order skills for its students beyond the typical 'placement'. Through showcasing a practical example of collaboration, the panel will explore partnerships through the prism of entrepreneurship while identifying insights into scalability, student experience and expectations, along with impacts beyond the initial collaboration. 
Learning abroad
Supporting Indigenous student mobility – Models overcoming complex intersections between mobility and indigenous communities globally (1158) — according to UN research on Indigenous People, there are systematic failures of the entire education model for this student cohort. The indigenous student population is one of the most under-represented in study abroad – how do we overcome these disconnects and build networks of indigenous students, faculty, and administrators to increase participation? Join a panel discussion with The University of Auckland, Northern Arizona University, Western Sydney University and ISEP, one of the largest global networks in the world, where indigenous mobility has been prioritised.
Marketing and recruitment
The art of social media influencing (1275) — learn how to craft, curate and measure authentic social content from social influencer Phoebe Lee. Together with her partner Matt, Phoebe runs Little Grey Box, an award-winning travel blog and YouTube Channel.
Students or parents – who leads and who follows? (1176)  — how much does a parent influence their child's university choice – and should you be talking more to them? An IDP/Austrade joint research exploring international student perceptions, expectations and attitudes and the role of their parents on the decision making process. This will be an expansion of the existing IDP Student Buyer Behaviour research.
Times Higher Education World University Rankings 2020: data and insights (1091) — Welcome back to the WUR! This presentation will cover the newly-released 2020 World University Rankings and the methodology that underpins the results.  Dive deeply into the data for Asia-Pacific to reveal trends and challenges within the region and around the world.
Professional development
Introduction to international education 101 (1238) — First time attending AIEC? Join us for this informative session that will provide you with a holistic view of Australia's international education industry. It doesn't matter whether you are from admissions, student support, recruitment, mobility or transnational education – get the inside scoop on the latest news and trends and be introduced to valuable tools and resources to assist you in keeping your knowledge current. Plus, you'll meet other newcomers to the industry.
Students
The mental wellbeing of prospective international students (1013) — following on from the success of last years' panel on students' mental, this presentation outlines the key findings from the first study to explore mental wellbeing and related outcomes in a sample prospective international and overseas students (OS) in their country of origin. Data were collected from a large sample of prospective OS who participated in QS Enrolment Solutions' 2019 International Student Survey – the world's largest survey of prospective international students. The implications of the findings for educational and government policy will be discussed.
Developing the international education sector's response to exploitation of international students at work and in accommodation (1140) — the Information for Impact project, funded by StudyNSW, reflects a ground-breaking collaboration among key stakeholders across the international education sector to collectively address exploitation of international students at work and in relation to accommodation. The study has established a much-needed evidence base on the types of information that education providers and agents can give students that respond to their needs and experiences, and influence their attitudes and decision-making. This panel will discuss key findings from the study and will identify opportunities for leadership across the sector to pragmatically address two of the most significant factors undermining the international student experience in Australia.
A candle in the dark: leading the way with international education data (1038) — the Department of Education and Training aims to provide data resources to the education sector that they can effectively use themselves. The Department's biannual survey of international students outlines the welfare and satisfaction of students studying in Australia – including a comparison between regional and metropolitan. This presentation will outline the Department's existing and newly-established data and information resources, explaining where they are, why they are there and how they can be used.
Teaching and learning
Leading evidence based improvement of the international student experience and outcomes by peering under the QILT (1269) — the Quality Indicators for Learning and Teaching (QILT) suite of surveys collect data for both higher education domestic and international students across from commencement to three years post completion. This powerful information is ideal to to support the monitoring and evaluation of strategies aimed at improving the quality of international students experiences and outcomes. This session will outline the suite of surveys, how the data is used by government, as well as some examples of the sorts of analysis that can be undertaken using QILT data and infrastructure, to support decision making, quality assurance and improvement and planning processes.
Transnational education
TNE, student engagement and TEQSA update (1054) — learn about TEQSA's activities with its International Quality Assurance Agency partners and transnational activities and projects. A particular feature of our presentation will be a focus on student engagement and how TEQSA is considering student engagement in transnational education through a pilot project in Singapore.
The end of transnational education? The view from the UK (1042) — the UK presently dominates the global TNE market. In 2017/18, approximately 700,000 students were studying for UK higher education qualifications in their own country – more than twice the number of international (non-EU) students who travelled to the UK to study. Despite the interest in TNE and the growth in offshore enrolments, there has been growing scepticism about the nett economic benefits of TNE and the sustainability of TNE models, with some high-profile failures of TNE projects. This presentation reviews the drivers of TNE activity and concludes the high-tide mark for UK universities has been passed and that TNE may be entering a period of decline.
Vocational education and training
How does training in the VET space drive or respond to global skills needs? (1282) — Australia was at the forefront of the establishment of VET systems, curriculum and pedagogy for the industrial era. Are we still leading today? Who else may be leading – Canada, Singapore, Malaysia? Who and what determines this leadership? This presentation will provided detailed view on how VET training providers are meeting the needs of the global workforce currently and addressing what we need to do for the future of work.
Held on the Monday prior to the conference, these half-day workshops and full-day masterclasses are an opportunity to maximise your AIEC learning experience. The interactive sessions are always popular and quickly sell out. This year's schedule includes the following:
Masterclasses – Full day
Masterclass 1 | Finding the leader within — how best to unlock purpose within yourself and your team for meaningful outcomes, enhance empathy and authenticity? Speakers include Kent Anderson, William Archer, and Gaye McMath. 
Masterclass 2 | Agents of choice: implementing an education agent framework — what is expected of education agents when recruiting students to study in Australia? This session will assist participants to understand the key elements in implementing an education agent management framework. Speakers include Anurag Kanwar and Anna Kirkham
Masterclass 3 | From concept to calibration: learning abroad program design — explore learning abroad program design – from concept to calibration. This session will include identifying what funding is available and how to put together a good funding application. Speakers include Linda Rust and Peta Sanderson.
Workshops – Half day
Workshop 1 | Data demystified: communicating data with impact — learn how to improve data literacy, identity key problems, gather and analyse relevant data and information, then deliver finding narratives in an impactful way.  Speakers include Darragh Murray, Lyndell Jacka, and Kadi Taylor.
Workshop 2 | Duty of care: risk management and under 18s — understand the specific requirements of Standard 5 of the National Code, how to identify good practice in managing risk in under 18s and how to support the welfare and accommodation needs of under 18 students. Speakers include Danielle Hartridge.
Café sessions return for 2019!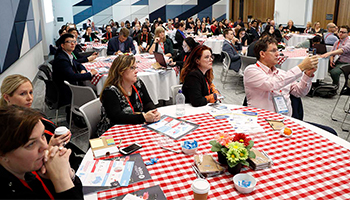 Our ever popular café sessions will be back for AIEC 2019. A structured conversational process intended to facilitate open and intimate discussion, café sessions link ideas within a larger group to access the 'collective intelligence' or collective wisdom in the room.
Amplifying the influence of women in international education (1185) – this session is designed to push traditional boundaries and address real issues facing women in higher education whilst exploring several strategies that may lead to more purposeful leadership. Includes discussion on equality in the workplace, peer support, imposter syndrome, and managing life and family, with participants from ISEP, University College Dublin, Austrade and the PIE News.
Delivering in Vietnam: sharing experiences of schools, VE, HE, government policy and reality on the ground — this interactive session provides an opportunity for providers currently operating in Vietnam, or interested in doing so in the future, to discuss past experiences and current developments. Includes participants from RMIT University, Vietnam Ministry of Education and Training and Vietnam Embassy in Australia.
Lightning presentations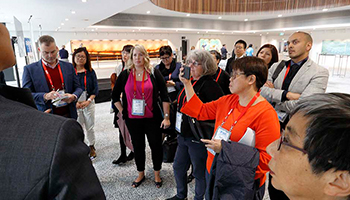 E-posters have a new name! Think interactive, intimate discussions fostering debate and discourse. Hosted in the foyer area, lightning sessions are organised by key interest area, and include three or four short presentations, followed by smaller and more intimate breakout discussions. They might be a bit informal, but they still pack an informative punch. 2019's program includes the following lightning sessions:
IEAA Network conversations
Come together with likeminded colleagues with the IEAA Network conversations.
Each session is curated and facilitated by the IEAA network convenor and deputy convenors, and dives into the priorities for the topic, including essential research, professional development and an examination of current issues effecting international education.
Each session will be divided in two parts: the first part is presentation by a guest speaker; the second part is a discussion facilitated by the network convener and deputy conveners.
Sessions are open to all AIEC delegates, so you dont need to be an exisiting network member. Just come along for the conversation!
There are nine network conversations:
Key dates

21 January - Online submission opens
1 March - Online submission closes
May - Call for proposals notifications
4 June - Registration opens
1 August - Early bird registration closes
15 October 2019 - Conference starts
Sponsors
{global_content name='counter'}{global_content name='register_now'}{global_content name='key_dates'}{global_content name='subscribe_to_enews'}{global_content name='view_schedule'}{global_content name='mobile_contact'}{global_content name='sponsors_program'}{global_content name='slider_news'}{global_content name='slider_ads'}