IDP Education
Booth: 1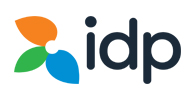 A world leader in international student placement services, IDP Education assists international students to find the overseas study options best aligned to their goals.
With a proud history spanning more than 48 years, IDP Education has continued to diversify to meet the challenges and opportunities of an increasingly sophisticated international education community. The organisation represents education institutions across key sectors (tertiary, vocational, ELICOS and schools) and ensures that high-quality fee-paying students are placed into suitable courses across Australia, the United Kingdom, the United States, Canada and New Zealand.
IDP Education is also a proud co-owner of IELTS (International English Language Testing System), the world's most popular high-stakes English language test, and operates 11 English language campuses across Vietnam, Thailand and Cambodia.
Key dates

21 January - Online submission opens
1 March - Online submission closes
May - Call for proposals notifications
4 June - Registration opens
1 August - Early bird registration closes
15 October 2019 - Conference starts