Poster guidelines
The information below provides guidelines and tips on how to design and set-up your poster. For information on poster sessions, please see session types (posters).
Poster specifications
All posters should be a visual presentation of your submitted abstract.
The poster must be no larger than A0 size: 841mm (w) x 1189mm (h).
Orientation of your poster must be portrait.
Regular paper is acceptable, as well as Corflute® or thicker cardboard. Please do not use fabric.
Posters made up of multiple pages will not be accepted.
The poster should be easily readable at a distance of 1.5 metres.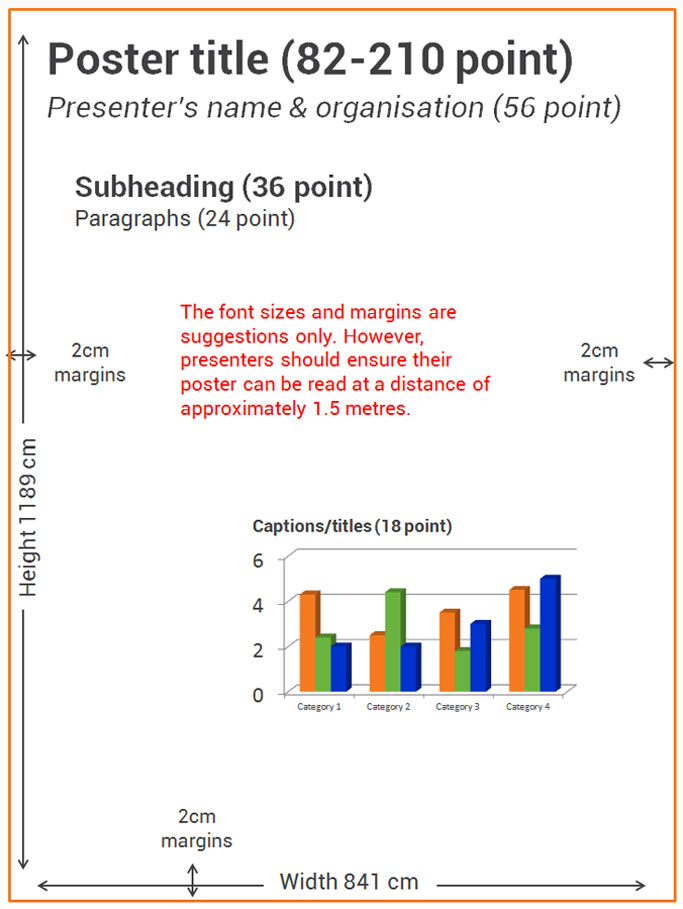 Poster design tips
Posters can be designed using computer programs such as PowerPoint, Corel Draw or Adobe Illustrator. Professional designers recommend using no more than 950 words on your poster.
Posters should be well laid out, professionally and visually appealing, with a balance of text, graphics and neutral space.
To ensure the best results, we have provided the following guidelines and recommendations.
Title
The title should be the same as in the submitted abstract and program.
At the top of the poster include the title, the name of the presenter(s) and the institution or organisation where the work was completed, if applicable.
Fonts
Use upper and lower case for general content as the use of ALL-CAPITAL text is difficult to read.
Avoid using a mixture of type/font styles.
Favour sans serif fonts to enhance readability:
Title: 85–210 point
Presenter names: 56 point
Sub-headings: 36 point
Paragraphs: 24 point
Captions: 18 point
Content
Avoid long sentences and large blocks of text.
The text should be brief throughout, i.e. any description of methods should be simple and concise.
The message should be clear and understandable without the requirement of oral explanation.
After the title, the two most important sections are the Introduction and the Conclusion. On the basis of these two sections, a reader will decide whether to consider the poster details and perhaps talk to the presenter. These sections need to be very simple, concise and visually attractive.
Results should be presented as graphically as possible:

Avoid large tables of data
If possible, rely on photographs, drawings and graphs.

Use the space to attract your audience for discussion, not to present complex details of methods and results.
Layout
Have enough blank space – too much text without breaks is overwhelming.
Use single spacing.
Use a minimum of 20mm margins around the edge of the poster and ensure that there is at least 80–100mm space between columns.
Insert photos or graphics, but do not insert too many images or images without a clearly linked explanation to the topic.
Use symbols and colour.
If you are inserting figures or graphs, a short heading and legends are essential. For visual effect, we recommend that graphs be no smaller than 120mm x 180mm.
Poster Zone
Posters will all be located together in the Poster Zone and numbered. This space is clearly indicated on the Exhibition Hall floor plan.
We will not provide poster presenters with individual chairs and tables. There are several seating spaces in the Exhibition Hall.
Poster boards
Posters will be attached to a black Velcro-compatible board.
Each poster board will have a heading with the poster title, presenter name and poster session time. There will also be a section where you can write your contact details or indicate which times you will be available and present at your poster.
Velcro dots will be provided to you upon arrival so you can attach your poster to the board. Drawing pins should not be used.
There will no business card holders. However, you can purchase one at a standard office supply retail outlet and bring it with you. They are usually Velcro compatible, and can be attached to the Velcro-compatible poster board assigned to you in the Poster Zone.
Poster display times
Posters will be displayed for the duration of the conference, during exhibition hours. You do not need to remove your poster at the end of each day.
We recommend that you be near your poster during lunch and tea breaks, and at your allocated poster session time.
You may also use a poster attendance card that will be provided at each poster board to note any other specific times when you will be available, either during breaks or during concurrent sessions.
Poster hours:
Tuesday 18 October         7pm to 8pm
Wednesday 19 October    8am to 5.30pm
Thursday 20 October        8am to 5.15pm
Friday 21 October              8am to 1.45pm
Please check the latest conference schedule, which may affect Registration Desk and Exhibition Hall opening hours.
There will be no audio visual support for poster displays, except for scheduled poster sessions.
Set-up of posters
Please bring your poster with you when you come to the conference.
The Exhibition Hall will be open from 5pm on Tuesday 18 October for poster presenters to set up.
Ensure your poster is displayed prior to 7pm on Tuesday 18 October in time for the Welcome Reception.
It is your responsibility to attach your poster to the poster board. Drawing pins should not be used, but we will provide Velcro dots if required. Fixings will be available at the display boards.
There will also be space on the poster card for you to provide your contact details, should delegates wish to discuss your poster with you further. Providing your contact details is optional.
Removal of posters
Posters must be removed immediately after lunch on Friday 21 October. 
Posters not removed by the end of the teardown time will not be retained. The organisers take no responsibility for any posters that remain up after this time.
Handouts
There will be a display rack in the Poster Zone where poster presenters can display handouts. Please note this will be a shared display and only a limited number of handouts per presenter will be possible. Poster presenters are responsible for restocking their pile as required.
If you wish to provide materials for delegates, you need to bring these with you as there will be limited photocopying facilities at the conference.
Handouts can be very useful; however, please note that these cannot be placed on the floor for safety reasons. If handouts or poster packaging is found on the floor the conference organisers will remove it.
Key dates

1 June 2016 - Registration opens
19 August 2016- Early bird closes
18 October 2016 - Conference starts