Audiovisual
Audio visual assistance will be provided throughout the conference by our technical support team.
Speakers may choose at their own discretion whether they want to prepare visuals for their presentation, either in PowerPoint or Prezi, or use any other audio visual such as video or audio files.
The Speakers' Preparation Room will be equipped with computers where speakers can make final adjustments to their PowerPoint presentations and double-check that all the videos and sound files are working correctly with our technical support team.
If you are presenting an e-poster, your files must be submitted by 28 September via the E-poster Presenter portal. 
Please also see information about session formats, room set-up and equipment.
Internet and wifi
Venue wi-fi is not suitable for use by speakers and is for delegate use only.
YouTube videos
For speakers it is recommended that videos be embedded in the presentation. YouTube videos will need to be downloaded and embedded into your PowerPoint. Our technical support team in Speakers' Prep can help you with this.
Please do not just have a link to YouTube in your PowerPoint presentation as we cannot guarantee this will work.
When to submit/upload your files
Before the conference (by Friday 5 October 5pm)
You can email your files in advance to our technical support team. Our technical support team will be happy to check your PowerPoint presentation for you should you have any concerns or queries. Please email your presentation by Friday 5 October, 5 pm via https://www.dropbox.com/request/qAHOOVKMOM4tQW6Dk9zb.
Please:
save your presentation file in the following format (Yourname_session_date_time)
ensure you are sending the FINAL version of your presentation.
We strongly encourage you to bring a back-up copy with you on the day.
We also have a technical support email address if you have any concerns regarding this document or need some technical assistance. The email is aiec@microhire.com.au
At the conference (Tuesday 9 to Friday 12 October)
Once you have your name badge, please visit the Speakers' Preparation Room. Speakers' Prep can be very busy during peak times of the day, especially on Wednesday (first day of the conference).
We recommend visiting the Speakers' Prep at least two hours prior to your session starting. If you're presenting on the morning of the first day, please make your way to the Speakers' Prep as early as possible.
This will greatly assist our technical support team to ensure all last-minute changes are properly networked in time for your presentation.
If you are presenting on:
Tuesday 9 October
(workshops/masterclass)
please send your files in advance to the workshop coordinator
Wednesday 10 October
please visit the Speakers' Preparation Room on Tuesday
Thursday 11 October
please visit the Speakers' Preparation Room on Wednesday
Friday 12 October
please visit the Speakers' Preparation Room on Thursday

If you are using Prezi for your presentation the file must be an executable file designed to work offline. Please notify our technical support team in advanced if you are using Prezi via aiec@microhire.com.au
PowerPoint
All venue rooms are equipped with 16:9 aspect ratio (widescreen) data projectors, projection screens, plasma displays and LCD preview monitors.
We have prepared an AIEC PowerPoint template you can use for your presentation. This template is already set at the 16:9 widescreen aspect ratio which we highly recommend. The use of this template is optional and you may prefer to use your organisation's branded template.
AIEC 2018 Presentation Template
To ensure your PowerPoint presentation fills the entire screen (16:9), please alter the page setup as pictured below prior to preparing your presentation.
Open PowerPoint
From the 'Design' Tab, go to 'Page Setup'
Change slides size to 'on-screen show (16:9)'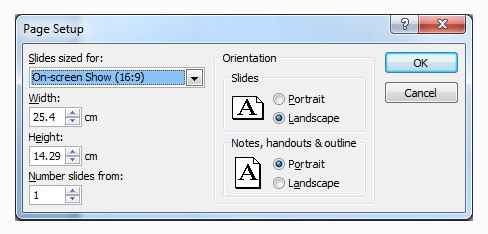 Presentations prepared in 4:3 aspect ratio will still be displayed on the screen unaltered. However, as shown in the right image below, they will not fill the entire screen.

Media files
Laptops supplied by the convention centre are all windows PCs which use Microsoft Office 2016. Please note no Mac books are supplied onsite.
The equipment supplied allows you to play audio and video media files. Note that DVD players will not be available in the session rooms. If you have a video files, please ensure you visit the Speakers' Preparation Room and advise our technical support team of your requirements.
Video clips are recommended to be in an MP4 format as this will be playable in PowerPoint.
If your presentation was created on a MAC (keynote) please save your file as a PPT or PPTX (PowerPoint format) so we can play it on a PC.
Fonts
If you have a custom font please bring the files with you on a USB to give to our technical support team in Speakers' Prep. They will assist in correctly formatting your PowerPoint.
Video conferencing
AIEC does NOT offer Zoom, Skype or video conferencing platforms. All presenters and speakers must be physically in the room to present.
Your presentation online - post conference
We will collect all presentations from the event to make them online as a PDF following the conference.
Presentations will be converted into PDFs so they cannot be edited or reused.  Videos will not be included.
Opt-out
If you do NOT want your presentation to be uploaded you will need to advise the team in Speakers' Prep.
Key dates

16 January - Call for proposals opens
28 February - Call for proposals closes
22 May - Call for proposals notifications
1 June - Registration opens
1 August - Early bird registration closes
9 October 2018 - Conference starts