Audiovisual
There will be audiovisual assistance throughout the conference.
Speakers may choose at their own discretion whether they want to prepare visuals for their presentation, either in PowerPoint or Prezi, or use any other audiovisuals such as video or audio files.
The Speakers' Preparation Room will be equipped with computers where speakers can make final adjustments to their PowerPoint presentations and double-check that all the videos and sound files are working correctly.
Internet and wifi
Venue wi-fi is not suitable for use by speakers and is for delegate use only. For speakers it is recommended that videos be embedded in the presentation.
When to submit/upload your files
The Speakers' Preparation Room can get busy at peak times of the day, especially on the Wednesday (first day of the conference). Therefore, we encourage speakers to assist us in minimising last-minute rushing to get all the files properly networked in time for their session by visiting the Speakers' Preparation Room the day prior to their scheduled session.
If you are presenting on:
Tuesday 18 October
(workshops)
please send your files in advance to Peter Muntz at peter.muntz@ieaa.org.au
Wednesday 19 October
please visit the Speakers' Preparation Room on Tuesday
Thursday 20 October
please visit the Speakers' Preparation Room on Wednesday
Friday 21 October
please visit the Speakers' Preparation Room on Thursday
If you are only attending on the day of your presentation:
You can email your files in advance to the conference organisers at aiec@thinkbusinessevents.com.au by Friday 14 October. Please include the details of your session (session name, date and time). Also please use a large file transfer system such as We Transfer, Hightail or similar if your files are larger than 10 MB.
Speakers' Preparation Room
You are required to check in at the Speakers' Preparation Room as soon as you arrive at the conference.
If you are using a PowerPoint or Prezi, your presentation must be uploaded and networked at least two hours before your session. This will ensure your presentation can be opened and loaded onto the conference computer system and networked appropriately.
Check in at the conference Registration Desk to receive additional information about the Speakers' Preparation Room.
Opening hours
| | |
| --- | --- |
| Tuesday 18 October (workshops) | 8.00am - 5.00pm |
| Wednesday 19 October | 8.00am - 5.00pm |
| Thursday 20 October | 8.00am - 5.00pm |
| Friday 21 October | 8.00am - 1.00pm |
Prezi
If you are using Prezi for your presentation the file must be an executable file designed to work offline.
PowerPoint
All MCEC rooms are equipped with 16:9 aspect ratio (widescreen) data projectors, projection screens, plama displays and LCD preview monitors.
We have prepared an AIEC PowerPoint template you can use for your presentation. This template is already set at the 16:9 widescreen aspect ratio.
The use of this template is optional and you may prefer to use your organisation's branded template.
To ensure your PowerPoint presentation fills the entire screen (16:9), please alter the page setup as pictured below prior to preparing your presentation.
Open PowerPoint
From the 'Design' Tab, go to 'Page Setup'
Change slides size to 'on-screen show (16:9)'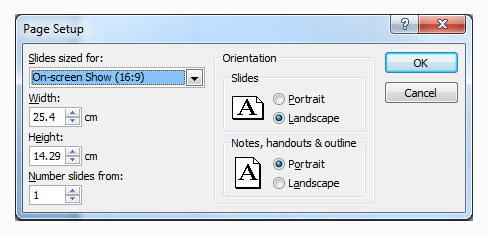 Presentations prepared in 4:3 aspect ratio will still be displayed on the screen unaltered. However, as shown in the right image below, they will not fill the entire screen.

Media files
Laptops supplied by the convention centre use Microsoft Office 2013.
The equipment supplied allows you to play audio and video media files. Note that DVD players will not be available in the session rooms. If you have a video file, please ensure you visit the Speakers' Preparation Room and advise the technician of your requirements.
Any video clips are to be in either AVI or WMV format playable in PowerPoint.
If your presentation was created on a MAC and converted to run on a PC, you must convert your files (e.g. QuickTime, etc.) to AVI or WMV files. Please test your presentation before you come to the conference. Make sure that the hyperlinks still function. Avoid using a rewritable CD (CD-WR).
As presentations will be screening from a computer via a projector, presentations with large file size photographs should have the photos compressed to 96dpi for screen/web. This will decrease the file size without affecting the image quality. This feature is available within PowerPoint in the picture tool bar.
Session rooms and equipment
Standard equipment in session rooms includes:
lectern and microphone
data projector, projection screen/plasma display and LCD preview monitor
handheld roving microphone for Q&A
head table with table microphones.
Please read below on how to set your PowerPoint presentation to the correct widescreen ratio (16:9).
Rooms will be set up in theatre style or cabaret (for cafe sessions) unless otherwise noted.
Key dates

1 June 2016 - Registration opens
19 August 2016- Early bird closes
18 October 2016 - Conference starts