Education Diplomacy in the 21st Century: 
IEAA Research Roundtable 2017
Date: Tuesday 10 October 2017
Time: 9.00am – 5.00pm
Venue: The Henry Jones Arts Hotel, Hobart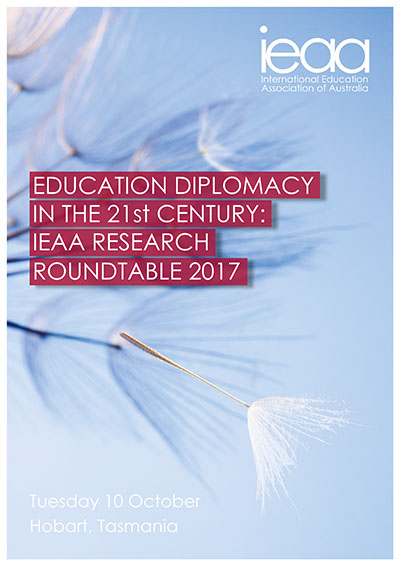 Education diplomacy traditionally involves the projection of 'soft power' – imparting ideas, values and culture – within and between nations. However, this approach has yet to engage national audiences about the purpose, or indeed the greater impact, of international education.
More students than ever are crossing borders for the purpose of education, so how can we better advocate for the work we do? What role does evidence play in advocacy? And how can we readily communicate with the wider public, both at home and abroad?

This year's IEAA Research Roundtable picks up where we left off in 2016 to examine education diplomacy in the 21st century. It will bring together leaders and researchers in international education to discuss recent findings and directions for future research. We will look at the implications for education providers, governments and students, as well as local and global communities.

As a model of using research to inform policy and practice, IEAA's Research Roundtable has established itself as a 'must attend' event. It is led by the International Education Association of Australia (IEAA), in conjunction with the Australian International Education Conference (AIEC), and has been held annually since 2009.
Key themes
Future forecasting
Education as aid and its impact on international public diplomacy 
Public advocacy and the role of international education associations
The rise of social media in public influence.
Key speakers
Melissa Banks, Pro Vice Chancellor (International), James Cook University; Vice President, International Education Association of Australia (IEAA), Australia
Dr Sheng-Ju Chan, Deputy Dean, Research and Development, National Chung Cheng University (Taiwan)
Jonathan Chew, Director, Nous Group; Senior Associate, The 5Rs Partnership, Australia
Dr David Comp, Assistant Provost for Global Education, Columbia College Chicago, USA
Dr Janet Ilieva, Founder and Director, Education Insight, UK
Professor David Lowe, Chair, Contemporary History the School of Humanities and Social Sciences, Deakin University, Australia 
Audience
IEAA's Research Roundtable caters to the interests and needs of established and new researchers – including current research students – across a wide range of disciplines. It will also appeal to education sector practitioners and research users, government policy makers as well as research funding and commissioning agencies.
Registration
Registration is now open.
You do not need to attend the conference if you wish to only attend the IEAA International Research Roundtable.
Key dates

16 January - Call for proposals opens
1 March - Call for proposals closes
1 June - Registration opens
1 August - Early bird registration closes
10 October 2017 - Conference starts
{global_content name='counter'}{global_content name='key_dates'}{global_content name='register_now'}{global_content name='subscribe_to_enews'}{global_content name='download_prospectus'}{global_content name='view_schedule'}{global_content name='slider_news'}