Speaker bio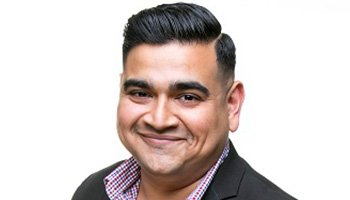 Dilruk Jayasinha
Actor, comedian and former international student


Keynote
Closing Plenary
Friday 13 October 2017, 12 pm
After moving to Australia on his own from Sri Lanka at the age of 19, Dilruk Jayasinha was well on his way towards making his parents proud by making good use of his finance and accounting degree. However, in 2009 he was unceremoniously fired by one of the Big Four accounting firms. Just as Dil had, his managers noted that he had absolutely no interest in being a full-time accountant. Dil then promptly jumped up for his first gig in September 2010 and hasn't looked back since.
Now a regular across the Melbourne comedy circuit, you would be hard pressed to go a week without seeing Dil's name on the bill at the best rooms in the city. With a reputation for consistently nailing his shows in Melbourne, Dil has been invited to perform all over the country as well as internationally with headline spots in KL, Penang and Singapore. He's also performed at five Melbourne International Comedy Festivals and in 2016 returned with a sold-out, smash-hit show called Sri Wanka.
Dil is a regular across community radio and television, including a 12-episode season of his own interview show called 'Dil Conceived Notions' for SYN FM in 2010 where he drilled local comics for knowledge. You may have seen him on Channel 31 where, after killing it with his first stand-up performance on 'Live on Bowen', he was invited back to co-host more than 20 times. In 2014, Dil scored his first primetime comedy spot for SBS where he appeared in its 'Stand Up at Bella Union' series. In 2015 he was part of ABC TV's six-part series 'Sammy J and Randy in Ricketts Lane' in the recurring role of Michael Jayasinha.
Dil's star has continued to rise. In 2016 he finally bought his first TV just in time to watch his first appearance on Network Ten's smash-hit prime time show 'Have You Been Paying Attention?' and was immediately invited back for his second appearance. Going from strength to strength, he has also recorded his first hour-long stand-up show for the ABC and appeared at the Sydney Opera House for the 'Just for Laughs' festival by invitation. Dilruk has now joined the cast of Utopia.
Key dates

16 January - Call for proposals opens
1 March - Call for proposals closes
1 June - Registration opens
1 August - Early bird registration closes
10 October 2017 - Conference starts
{global_content name='counter'}{global_content name='key_dates'}{global_content name='register_now'}{global_content name='subscribe_to_enews'}{global_content name='view_schedule'}{global_content name='slider_news'}{global_content name='mobile_contact'}